Construction works due to start
Work to begin in June 2019
While we had anticipated that we would be onsite before Christmas 2018, there were delays with finalising our funding agreements.
Our apologies for any concern this may have caused but now we are ready to start!
Our contractor has been appointed and will commence early civil works near the Scoresby Road end of the creek in June 2019.
What's involved
To naturalise this section of Blind Creek, we will remove part of the existing underground storm water pipe and will construct a new waterway with rock pools, riffles and stepping stone crossings. There will be a new bridge crossing near the sports grounds.
Given the delayed start, we will undertake the early works then leave the site for winter.
When we return, the remaining civil work will be completed in stages:
Constructing the waterway from Scoresby Road towards the mid-point.
Constructing the waterway from Manuka Drive to a mid-point near the cricket club nets.
Once these works have been completed, planting can commence. We have hundreds of native plants, tube stock size, to be planted in and around the new waterway.
To maximise success, we will have some wetland planting in Dec/Jan 2019 with the bulk of the planting in late Autumn/early Winter 2020.
We expect all work to be completed by late 2020.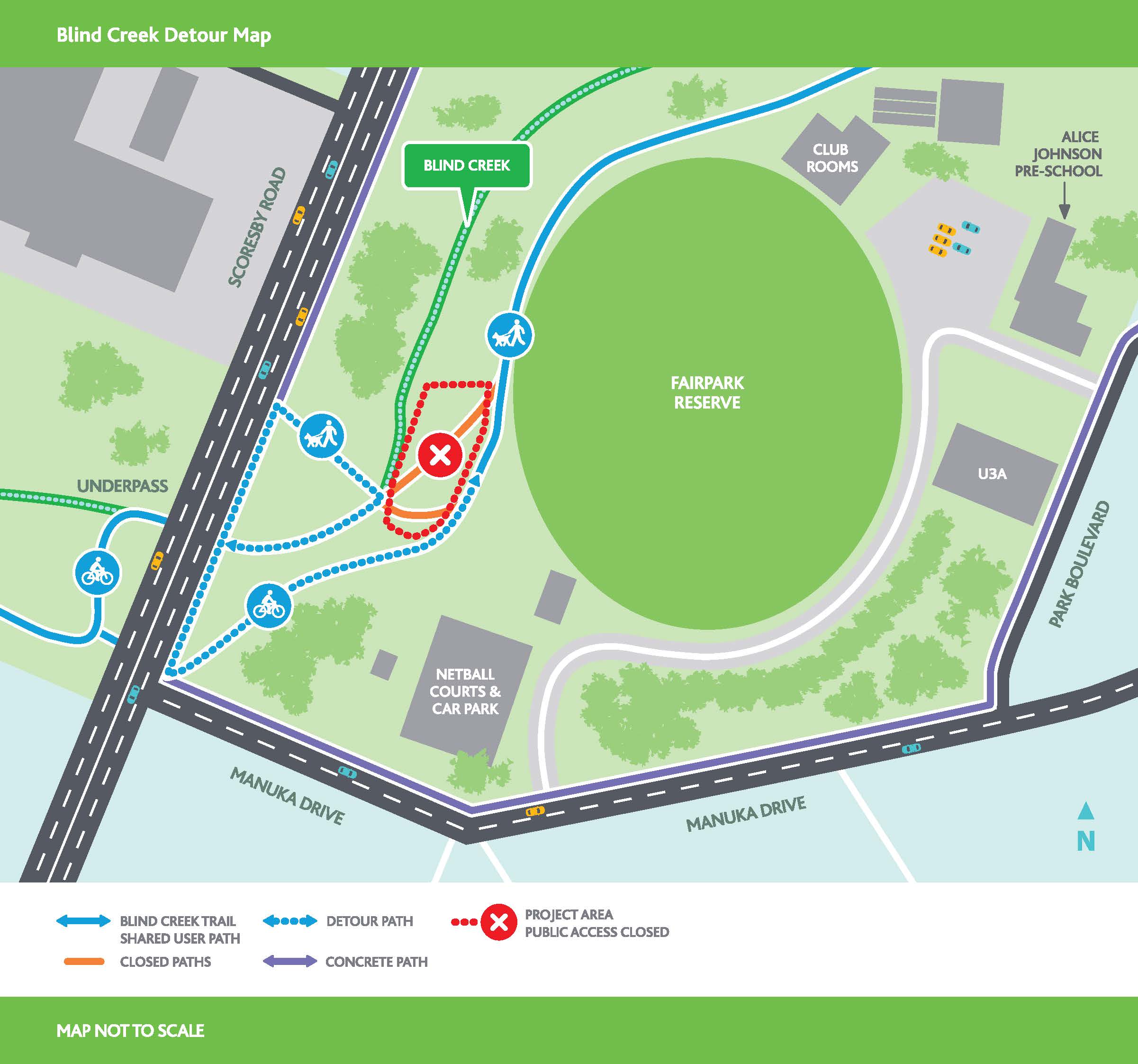 What to expect during early works

Hours of work
Our construction hours will be from 7am to 6pm Monday to Friday and 7am to 1pm on Saturdays. You will be advised if we need to work outside these hours.
Diversions
While we are completing the early work, pedestrians and cyclists will be diverted to a new temporary shared path to access the Scoresby Road underpass. (see map)
Temporary site office and compound
The site office and compound (parking and material stockpile) will be placed on the northern oval. There will be exclusion fencing set-up at the actual construction site (near the spillway at the Scoresby Rd). There will also be machinery traveling from the compound to the construction site via a temporary road through the channel from Wayne Avenue.
With additional trucks and construction vehicles travelling to and from the site, there may be short-term changes to speed limits and some traffic diversions.
During these early works, you will continue to have access to Fairpark Reserve and the shared path past the temporary diversion.
For your safety, please follow our traffic controllers' instructions, signs and detours.
We do not expect there to be any impact on private property while we are working at the creek.
There will not be any impact on the supply of drinking water to your home while our work is being completed.