Tarralla Creek concept design – what you told us
We recently presented the concept design and completed our consultation. Here's a snapshot of what we did!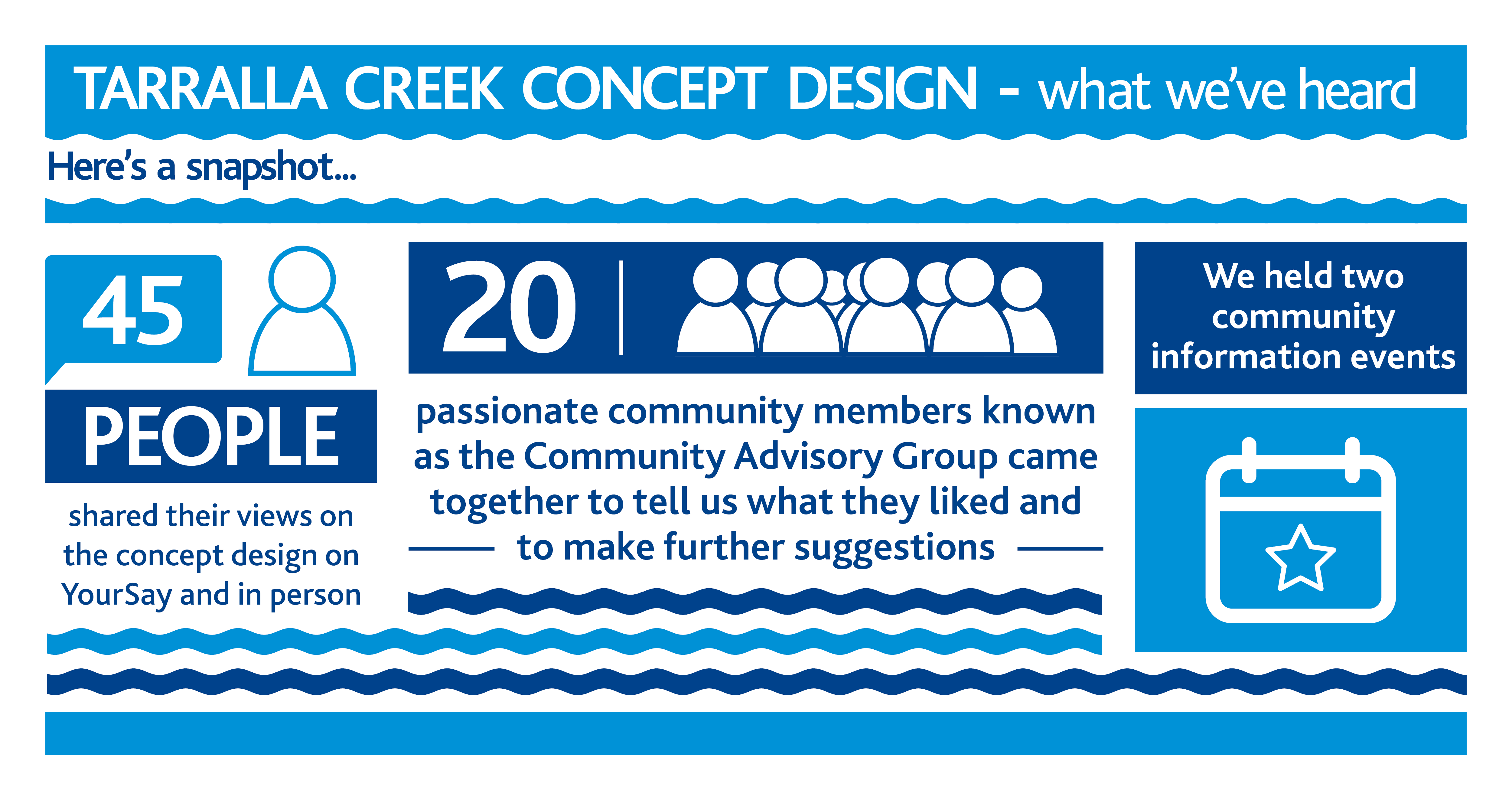 Our approach to co-designing Tarralla Creek with the local community has seen the project progress from inception (listening to the community's values and ideas for a great outcome) to the development of a concept that we shared with the community in October.
From our initial face to face and online engagement activities, we heard that improvements could be made in each of these areas:
Natural Environment
Access and Connectivity
Recreation, Relaxation and Meeting Place
Safety
Read this summary of your ideas, suggestions and priorities at the start of the design process.
With these priorities as our focus, we developed a concept design to share with the community and we wanted to validate it to make sure we were on the right track.

Was our concept design on the right track?
We checked in with you to make sure our concept design aligned with what you told us earlier. What emerged from your feedback was an endorsement on the following themes and features...
Your added suggestions
What you said
The role of the Community Advisory Group in shaping the concept design
To ensure the redesign of Tarralla Creek captured local knowledge, priorities and ideas, people who live close to Tarralla Creek or use the area for work, study, recreation or to commute were invited to participate in the Community Advisory Group.
At the first meeting, feedback was categorised according to five themes:
Create a beautiful, tranquil destination
Connect people and nature
Enrich environmental values
Create a space that feels safe, is accessible and clean
Create a learning space.
These priorities were incorporated into the concept design and presented at the second meeting in October. This meeting was an opportunity to validated the ideas and work done so far. As with the online feedback, the group identified elements that were still missing from the concept design.
Next steps
As your feedback confirmed that our concept design is on the right track, we will further refine the design elements and priorities and prepare a detailed design. We expect to share this with you in early 2019.
Make sure you follow this page to receive project updates.