Blind Creek Construction starts October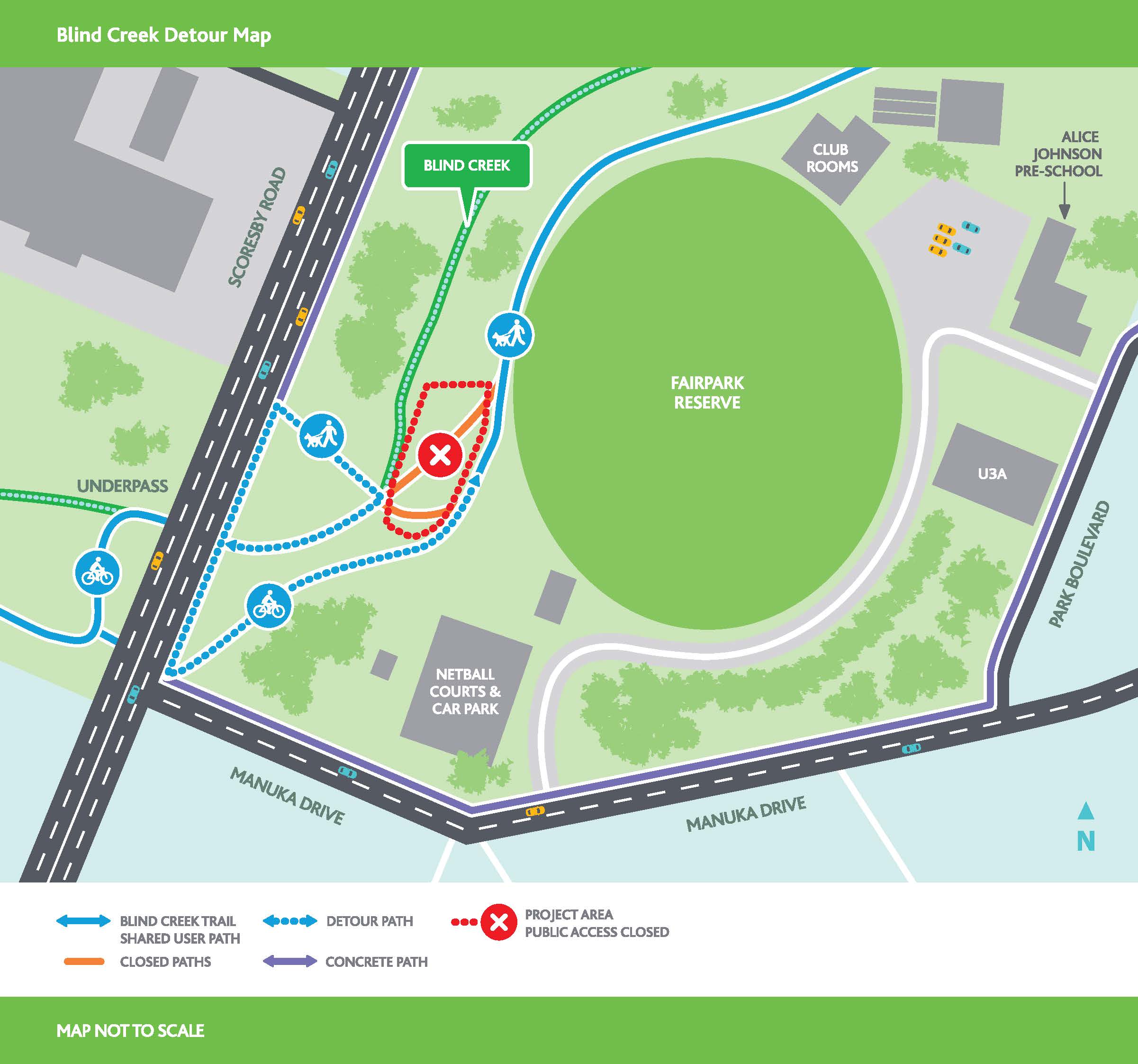 To mark the start of construction, we will hold a sod-turning event on Friday 4 October 2019 at Fairpark Reserve. Come along from 12 noon to meet and talk to the project team.

While we had planned to be onsite in June to start early works, the start of winter meant this work was deferred.
Now it's spring we are ready to start the civil works in October 2019.
To naturalise this section of Blind Creek, we will remove the existing underground storm water pipe and construct a new waterway with rock pools, riffles and stepping stone crossings. There will be a new bridge crossing constructed to link the sports grounds.

We plan to complete our work in stages.
Excavating the waterway, starting at the Scoresby Road end and working towards Manuka Drive. Then, installing matting along both sides of the embankment to minimise erosion and hold the aquatic plants
Planting out the surrounding open space.
We expect the first stage to be completed by March/April 2020.
Once this work has been completed, planting can commence. We have more than 50,000 native plants, tube stock size, to plant in and around the waterway.
To maximise success, this planting will be completed in autumn and/or spring. We expect to complete this planting to be completed by August/September 2020.
For safety, we will fence around the site. There will be no access across the reserve. As soon as it's safe, we will remove the fencing.
We expect all our work to reimagine this section of Blind Creek to completed by September 2020.
What to expect
Hours of work
Our construction hours will be from 7am to 6pm Monday to Friday and 7am to 1pm on Saturdays. You will be advised if we need to work outside these hours.
Diversions
While we are completing this work pedestrians and cyclists will be diverted around the construction zone. There will be ongoing access to the shared path along the creek, from Manuka Drive and Scoresby Road.
From October to December 2019, there will be a short signed detour along Scoresby Road to enable you to access the underpass.
Site office and compound
As we will establish a site office and compound for our equipment at the Wayne Avenue entry to our site, there will be additional traffic to and from our site along this street.
Please travel safely through this area and follow our traffic controller's instructions.
We do not expect there to be any impact on private property and this work will not impact the supply of drinking water to your home or business.