We want to hear from you!

We will soon be undertaking works to naturalise a section of Wallan Creek in Hadfield Park Wallan to improve the natural amenity and liveability of the area.
Hadfield Park is an important community green space with facilities including the Mechanics Institute and Free Library, R. B Robson Stadium and public toilets. The creek was previously shaped to include a small concrete pipe to carry the low flows and a wide grassed channel to carry flood flows.
As part of the redesign, the pipeline will be relocated to undertake erosion control works, which provides an exciting opportunity to naturalise this section of pipe. Your feedback will be used to inform improvement opportunities in the detailed design.
Have your say
Join a virtual drop-in session via Zoom to discuss the plans directly with the project team
Ask the team using the live Q&A tool
Share your ideas and on ways to improve the space
To get started, take a look at the concept plan below and provide your feedback using the tools on this site.
Explore the concept plan
Click on the icons below to see some of the key features that are planned for the creek before providing feedback below. Find more detailed cross sections and diagrams in the document library.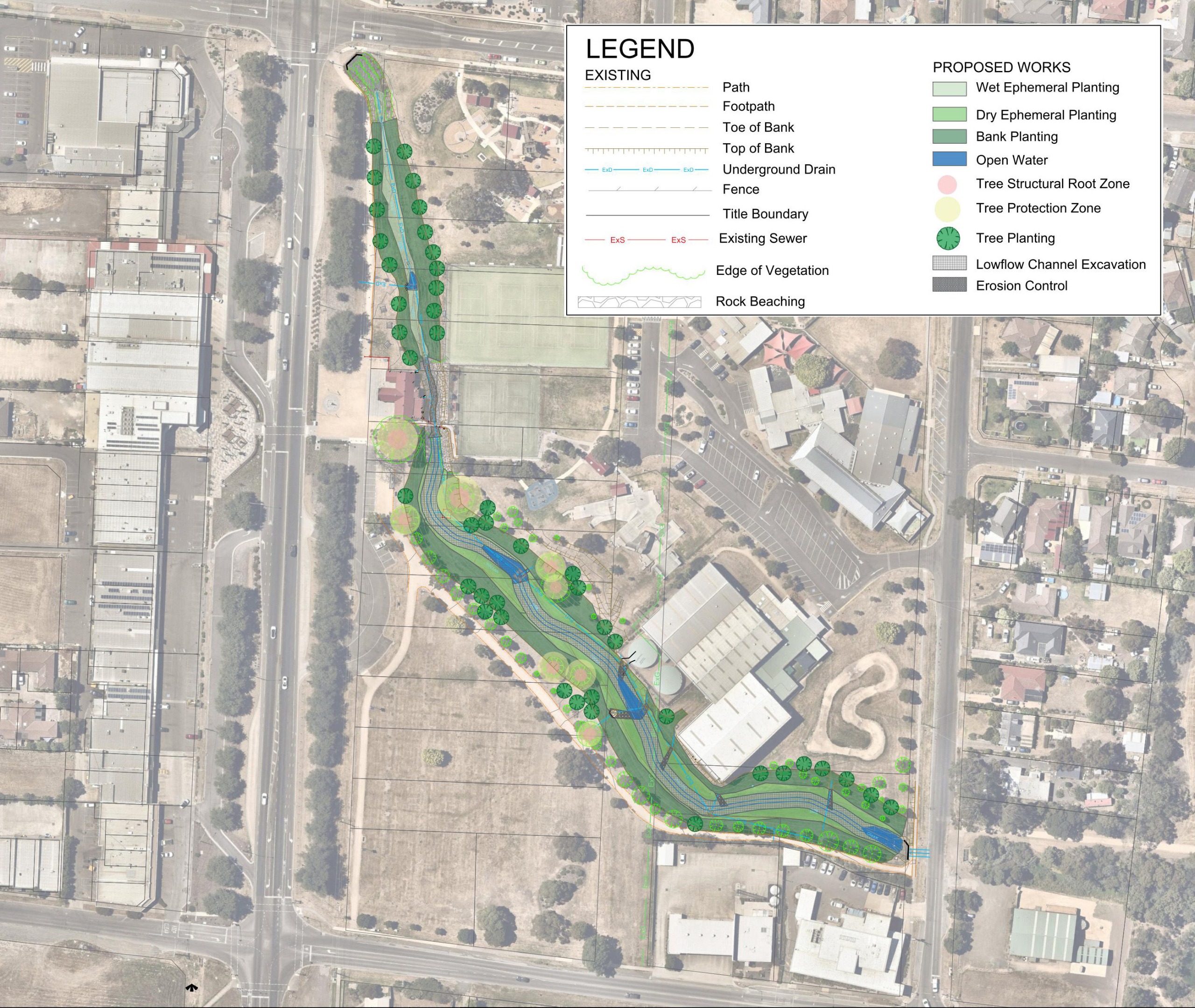 Get involved
Share ideas
What ideas do you have to improve the area
After reviewing the concept plan, what ideas do you have? We're seeking feedback on amenity features like seating, signage, planting and creek crossing stepping stones
9 July, 2020
Celina says:
"Hi, you need creek crossings near the bendigo bank community park and the skate park. Move seats from Police station end to near Hall"
8 July, 2020
Paul R says:
"Looks like a very good plan. Maybe some more public art projects would add to the the project. See "Wallan Eye" sculpture, made locally."
30 June, 2020
Jenny says:
"I lpvdd Ed the idea of the creek stepping stones and it will be great to see the creek flowing maturely instead of through pipes underground"
22 June, 2020
jc.100 says:
"use composting toilets eg Ecoflow Kabuza, rain water for handwashing"
22 June, 2020
jc.100 says:
"Comfortable upright seating creative designs 'wilderness' area for children's exploration recycled materials "
Ask the team
Ask our experts any questions you may have about the Hadfield Park Wallan Creek naturalisation. We would love to hear from you, there is no question too big or small!

While you're here, you can see what other people have asked and vote on questions you like.
How it works
Your post will be reviewed to ensure its relevance and compliance with our moderation policy.
Posts that do not adhere to the policy will be removed. If this happens, you may be notified via email with an explanation.
Your question will be directed to the most appropriate member of the project team, and an answer will be posted on this page within 2 business days.
Open
Activity closes 31/07/2020 at 11:59 PM